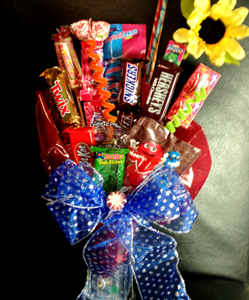 The Favorite Bouquet

This Candy Bouquet features everyones favorite candy bars.
A Refreshing Gift for candy lovers Everywhere
and comes in a Coca Cola Glass!

The wrapped Bouquet stands more than 20" tall!

Includes more than 20
Fun Sized Candies including:

M&Ms, Snickers, Kit Kat, Sweet Tarts,
Sour Discs, Twix, Twizzlers,
Tootsie Roll Pops and Pixie Sticks

34.99

Make their Day with Candy Bouquets only 34.99!

When you place your order,
you will have
the opportunity
to provide
special instructions!

US Postal Priority Shipping
to Locations outside
of Atlanta Metro Area

Same Day Candy Bouquet
Delivery Mon - Fri
in Atlanta Area
on orders placed
before 9 am..

(later than 9, call to check!)

To Contact Us
Please leave us a message and we will get right back to you!
Phone 404-532-9333
1708 Peachtree Street NW ~ Suite 107-D ~ Atlanta Georgia 30309
All Bouquets have a More than 20 Candies and
will be over wrapped in Clear Cellophane

On orders placed before 9 am,
we offer Same Day Delvery to
Buckhead, Midtown or Downtown and most places within
10 miles of Downtown Atlanta

Delivering Candy Flowers, Candy Bouquets and Candy Gift Baskets
to Atlanta Georgia and the Atlanta Georgia Metro Areas

Email or Call for info on Special Custom Created Candy Bouquets!
A division of Independent Kitchen Solutions